What "Delete This Row" Really Means in a P6 Spreadsheet
10 June 2015
In case you missed this post a couple of months back, Bill shares some useful knowledge on deleting rows in P6...
During a private Primavera P6 training session last week I was showing my client how to import changes into a P6 schedule using a Microsoft Excel spreadsheet. As you probably know, there are basically four steps involved: (1) create a spreadsheet template inside P6, (2) export the spreadsheet, (3) make changes to the spreadsheet, and (4) import the spreadsheet back into P6. There are a few basic rules to follow, such as not changing the order of the columns in the spreadsheet after it has been exported, but otherwise it is an easy way to share Primavera P6 data with individuals who may not have access to (or understand how to use) P6.
As a consultant, I use spreadsheets all the time for schedule updates. I send spreadsheets to my clients and ask them to provide the status of each activity that has been started or completed since the previous update. I rarely have to input this information manually. This process saves a lot of time and I can focus on more important tasks such as checking the critical path, and looking for open ends and out-of-sequence progress.
Anyone who has used a spreadsheet exported from Primavera P6 has probably noticed the mysterious column that P6 adds at the end. This column is not part of the template created in P6 but always appears in the exported file. While both rows 1 and 2 are column headers, it is the second row that most people notice because of its somewhat cryptic message:
"Delete This Row"
My client understood this instruction to mean that the second row should be deleted prior to importing the spreadsheet back into Primavera P6. And where did they get this crazy idea? From the in-house P6 expert. Granted, it does appear that P6 is telling you to delete the second row. And the real meaning of this instruction does involve deleting a row.
Here's the deal. Deleting rows in the spreadsheet does not delete the activities when the spreadsheet is imported back into Primavera P6. I sometimes forget to use a filter in my spreadsheet template and when I realize there are more activities in the spreadsheet than I intended, it is often faster just to delete the rows rather than re-export the spreadsheet. And for this reason I also warn my clients that deleting a row in the spreadsheet is not the proper way to get rid of activities that are no longer needed.
The purpose of "Delete This Row" is in fact to delete one or more rows. You type "d" in this column next to any activity that should be deleted from the schedule. When the spreadsheet is imported back into Primavera P6 the activities with "d" next to them will be deleted. It is actually a great way for someone to communicate to me that certain activities should be deleted. In the graphic below, Activity ID 21 has been designated for deletion: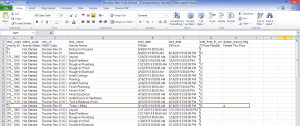 Keep in mind, that when activities are deleted there is a chance that it creates open ends in the logic network, so it is very important to check for missing predecessors and/or successors before publishing the schedule. Otherwise, "Delete This Row" is a very convenient way to get rid of unwanted activities.
Source: Primavera Scheduling